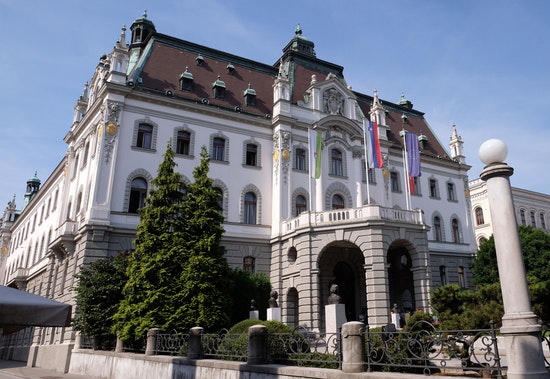 Yes, you read that correctly: 'study abroad in Slovenia'. You may not have even heard about that tiny little country before, let alone thought about studying there. But, now you have a chance to think about your brand new adventure, in a brand new place, with a brand new life that you may not have even thought possible. Below you'll learn not only that you can study in Slovenia; you'll learn why it's such an excellent choice!
1. Slovenia is a quaint place that fits in your pocket
Slovenia is positioned right in the heart of Europe - more or less at its geometrical centre - between Italy, Austria, Hungary and Croatia. If you're going there, you'll have no problem travelling by plane as long as you're going to the main airport in Ljubljana (the capital), or coming in from close-by airports in the following cities: Graz, Vienna, Klagenfurt, Venice, Trieste, or Zagreb. More adventurous students, of course, are inclined to come in by train, so that they can jump from city-to-city, fitting as many locations as possible into a short, cheap trip.
2. For such a small country, Slovenia has a breathtaking landscape
We do have a seaside coast. It's short one, but it's there, crowned with some beautiful seaside cities. You'll find yourself staring at beautiful mountains and dazzled by the green hills and amazing views. Some are even full of vineyards. You'll discover one small part of Slovenia composed of plains pulled in from the so-called "Panonia sea", and that a few amazing caves in the south-west region offer a unique underground experience. Slovenia is often lovingly called a 'green country' because of the many woods that exist all across the country. Immerse yourself in some amazing autumn scenes when the leaves change colour and create almost rainbow coloured woods.
3. Slovenia's small size enables you to easily reach every hidden corner
You can see all of Slovenia in just a 2-3 hour drive from our capital Ljubljana. You can go skiing in mountains in winter, swimming in the sea in summer, hiking all over the beautiful mountains in spring and autumn.
Although small, Slovenia is covered with various monuments and other sightseeing options that will keep you busy during your free time.
4. Everyone in Slovenia speaks English like a pro!
The majority of Slovenians are fluent in at least one foreign language - usually English or German but also Italian or Hungarian, depending on the region. You'll have no problem holding nice conversations with people in your own language, or in English. All of the lectures for foreign students are conducted in English; and your professors are mostly fluent in English, making them not only brilliant, but easy to talk to. Also, people are very open and kind, willing to help you when they can.
5. Slovenia has awesome food for you to enjoy on a budget!
Student meals are subsidised by the government, lowering the overall cost of living. Example: A pizza normally costs about five or more Euros; but with student benefits, you get a pizza, drink, soup, salad and dessert for 2.5 EUR. As a bonus: You can enjoy student benefits in almost 80% of restaurants in cities that have students (Ljubljana, Maribor, Celje, Koper, Kranj...). Have a feast on a student budget!
6. Accommodation is super simple
Again, a lot of discounts; in Maribor, in particular, you get the option to live in student dormitories, where monthly rent is from 80-150 EUR, all inclusive. You can also live in private flats where rent is a bit higher, but still not so bad - starting at about 150 EUR including utility costs. In the capital Ljubljana, though, prices are about 10-20% higher, but still very affordable. Plus, you're living in the capital! Try living on that kind of budget in Paris or London!
Read Alexandra's story who studied in Slovenia
7. There's plenty to keep students busy
Students in Slovenia get a lot of discounts on every activity. Sports are really popular, and you can get really cheap sport courses, cheap visits to fitness centres, volleyball, football, or other activities. Also, non-sport activities are discounted, such as language courses and photography courses. Most of the faculties have student associations that have international connections. Allowing you to attend different workshops or exchanges, and also travel a bit.
8. Student life is perfectly built for success
Studies are used to foreign students. Professors always take additional time for you, and (off the record!) they are usually less demanding towards foreign students. As I said before, studies are in English; and because there are smaller groups of foreign students, students get more individual time from professors and teaching assistants.
9. Take a cheap trip anywhere in and around Slovenia!
In Maribor for example, everything is within walking distance. But you can also get cheap bikes at the flea market, and sell it just before you leave!
Transportation in Slovenia is quite cheap. There are some limitations to that; but with a bit of inside information from locals you can travel throughout Slovenia without spending too much money. Intercity bus and train connections might be not the best, admittedly, but a really popular alternative in Slovenia is carpooling.
10. Party your head off in Slovenia
Nightlife during the year is great, with lots of student's parties organised every week (and almost every day). You'll go to clubs, enjoy concerts, blast loud music, shout at the top of your lungs, dance through the night, and find endless time for beer.
During summer, there are also many festivals all over Slovenia that offer different cultural and social opportunities, with a lot of great music for all tastes and activities for everyone.
---
What others say about this post? (0 Comments)